Brass Battery Terminal Connectors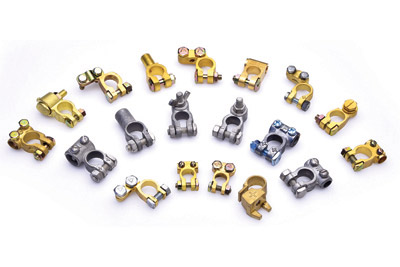 We are manufacturer of all kinds of Brass Battery Terminal Connectors like Machine made brass battery terminals and forged battery terminals.
Brass Battery terminals are mainly used for connecting batteries in auto industry and Inverter batteries. We take due care that terminal are not rough and don't have any sharp edges, to make sure the wires are not damaged while installing. Angle Type, Strip Type, Lucas Type & Marine Type brass battery terminals are the four basic types. Our product range are Heavy, Medium & Small variants in Angle & Strip type where as in Lucas type the sizes are coming as 9.5mm, 11mm & 13mm.
Types of Battery Terminal Connectors
Angle Casting Battery Terminal Connectors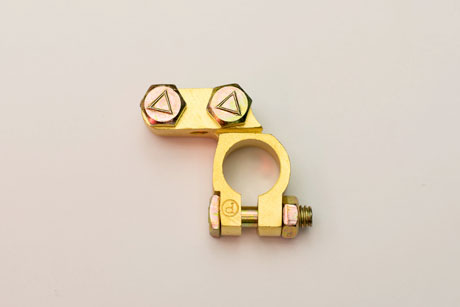 | | |
| --- | --- |
| Formal Name | Angle Type / Bosch Type |
| Application | Used In After Market For Heavy Batteries and Inverters |
| Function | Grip Well With Cable And Conduct Power With Comes From Battery To Wire End. |
| Material | Copper Zinc Alloy (Brass) |
| Operating Temperature | -20° C To +300° C |
| Weight Range | Available From 250 Gm To 1200 Gm (Brass Weight Per Dozen) |
| Global Consumption | India, Africa,Saudi Arabia, UAE, Some Part Of Europe Also. |
TMB – TVS Battery Terminal Connectors
| | |
| --- | --- |
| Formal Name | Tmb Type Terminal |
| Application | Oe And Dg Sets |
| Function | Crimping Makes Solid Grip To Cable |
| Material | Copper Zinc Alloy (Brass) |
| Operating Temperature | -20° C To +300° C |
| Weight Range | 650 Gm |
| Cable Hole | 11mm |
| Global Consumption | Indian Oe |
Strip Forged Battery Terminal Connectors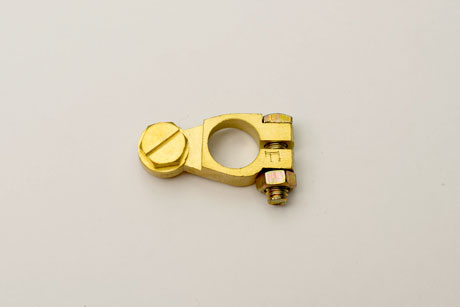 | | |
| --- | --- |
| Formal Name | Strip Type Terminal |
| Application | After Market Medium And Light Duty Terminal |
| Function | Flexibility To Connect With Lug And Clips For Battery Replacement |
| Material | Copper Zinc Alloy (Brass) |
| Operating Temperature | -20° C To +300° C |
| Weight Range | 450 Gm To 1200 Gm |
| Global Consumption | Indian Defence, Bangladesh, Pakistan & Indian Market |
Angle Casting MS Plate Battery Terminals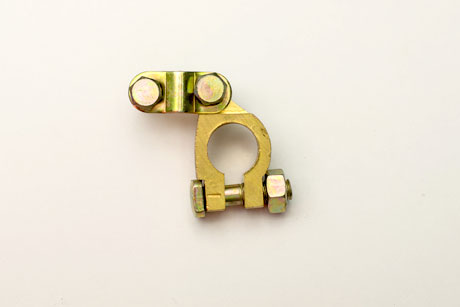 | | |
| --- | --- |
| Formal Name | Angle Type Forged Terminal With Ms Plate |
| Application | Used in after market for heavy batteries and Inverters |
| Function | Grip Well with cable and conduct power with comes from battery to wire end. |
| Material | Copper Zinc Alloy (Brass) |
| Operating Temperature | -20° C To +300° C |
| Weight Range | Available From 550 Gm To 650 Gm (Brass Weight Per Dozen) |
| Global Consumption | South Africa & Some part of Europe. |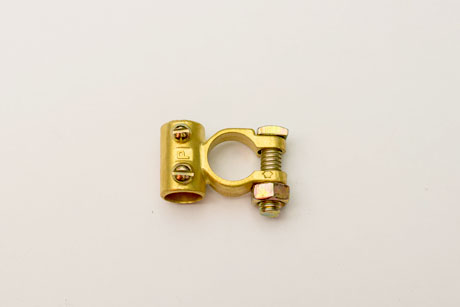 | | |
| --- | --- |
| Formal Name | Lucas Forging Type 12mm 500 Grams |
| Application | Medium Battery Aftermarket |
| Function | Easy To Grip With Screw Bolt |
| Material | Copper Zinc Alloy (Brass) |
| Operating Temperature | -20° C To +300° C |
| Weight Range | 500 Gm |
| Cable Hole | 12mm |
| Global Consumption | Malaysia, Sri Lanka, Indonesia, Singapore, Some Of Gulf Countries. |
Angle Forged Brass Plate Battery Terminals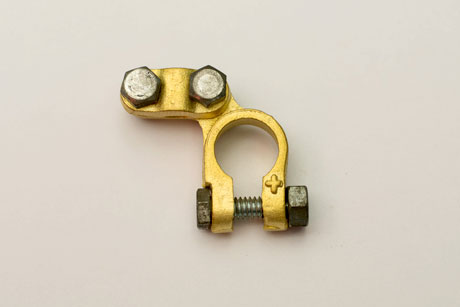 | | |
| --- | --- |
| Formal Name | Angle Forged With Brass Plate |
| Application | After Market Product For Heavy Batteries and Inverters |
| Function | High Volts Battery For Better Conductivity |
| Material | Copper Zinc Alloy (Brass) |
| Operating Temperature | -20° C To +300° C |
| Weight Range | 700 Gm To 800 Gm |
| Global Consumption | Saudi Arabia, American Region, South Africa & Europe |
Angle Unique Battery Terminals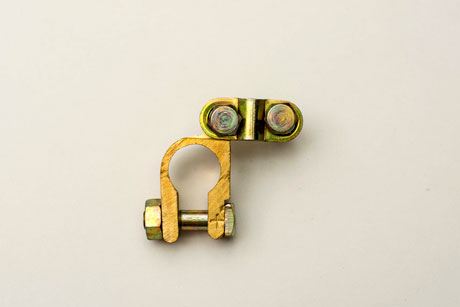 | | |
| --- | --- |
| Formal Name | Angle Type Unique Terminal |
| Application | After Market Heavy Battery Terminal and Inverters |
| Function | High Volts Battery For Better Conductivity |
| Material | Copper Zinc Alloy (Brass) |
| Operating Temperature | -20° C To +300° C |
| Weight Range | Weight Range 750 Gm To 950 Gm |
| Global Consumption | American Region & Australia |
Dustan Japan / Maruti Battery Terminals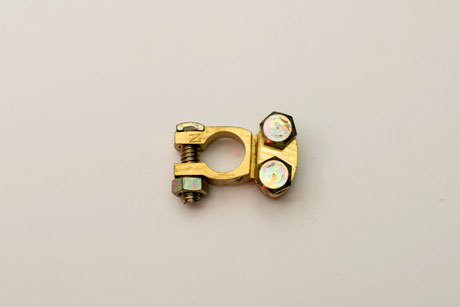 | | |
| --- | --- |
| Formal Name | Dustan Japan / Maruti Terminal |
| Application | Used mainly in small batteries and cars |
| Function | Grip Well With Cable And Conduct Power With Comes From Battery To Wire End. |
| Material | Copper Zinc Alloy (Brass) |
| Operating Temperature | -20° C To +300° C |
| Global Consumption | Japan and Europe |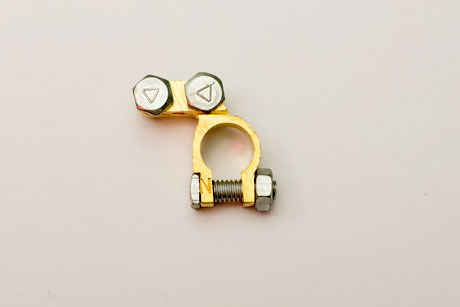 | | |
| --- | --- |
| Formal Name | Toyota Terminal |
| Application | Used mainly in small batteries and cars |
| Function | Grip Well With Cable And Conduct Power With Comes From Battery To Wire End. |
| Material | Copper Zinc Alloy (Brass) |
| Operating Temperature | -20° C To +300° C |
| Global Consumption | Europe |
Lucas General Range Battery Terminal Connectors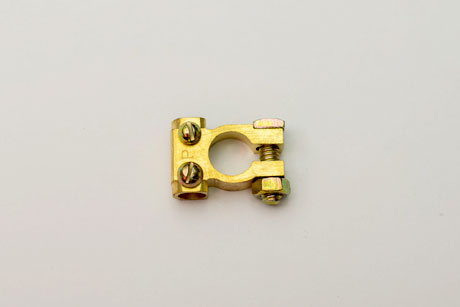 | | |
| --- | --- |
| Formal Name | Lucas Type Terminal |
| Application | Car And Lorry Batteries |
| Function | Fitment With Screw In Cable Entry Hole |
| Material | Copper Zinc Alloy (Brass) |
| Operating Temperature | -20° C To +300° C |
| Weight Range | Standard |
| Cable Hole | 14mm |
| Global Consumption | India, Africa |
Lucas Forging UK Battery Terminal Connectors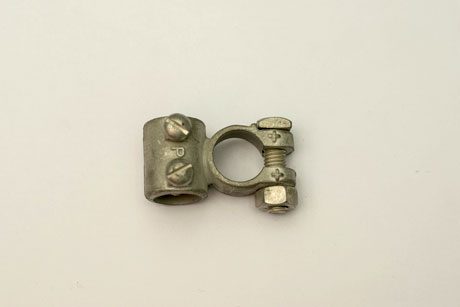 | | |
| --- | --- |
| Formal Name | Lucas Type Terminal |
| Application | Car And Lorry Batteries |
| Function | Fitment With Screw In Cable Entry Hole |
| Material | Copper Zinc Alloy (Brass) |
| Operating Temperature | -20° C To +300° C |
| Weight Range | Standard |
| Cable Hole | 11mm |
| Global Consumption | UK, USA |
Universal Oe Battery Terminals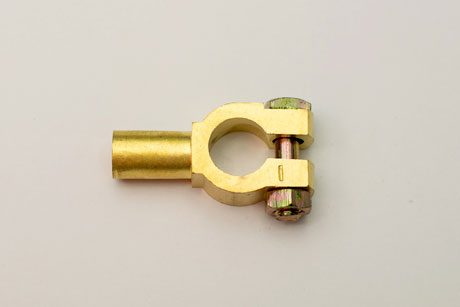 | | |
| --- | --- |
| Formal Name | Seiwa Type Terminal |
| Application | Oe |
| Function | For Better Grip On Cable |
| Material | Copper Zinc Alloy (Brass) |
| Operating Temperature | -20° C To +300° C |
| Weight Range | 700 Gm |
| Global Consumption | India |
Universal / Seiwa Type Battery Terminals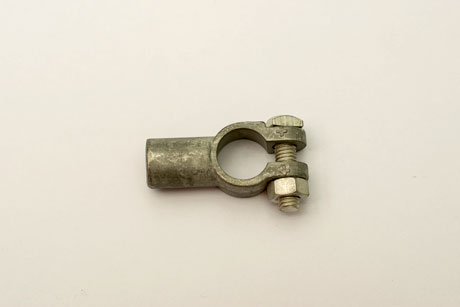 | | |
| --- | --- |
| Formal Name | Universal Terminal / Seiwa Type Terminal |
| Application | Heavy Battery As Its With Forging Type |
| Function | Easty To Grip With Crimping In Cable Entry Barrel |
| Material | Copper Zinc Alloy (Brass) |
| Operating Temperature | -20° C To +300° C |
| Weight Range | 650 Gms |
| Cable Hole | 7mm, 9mm |
| Global Consumption | UK, USA |
Strip Forging Ex-Heavy Wing Nut Battery Terminals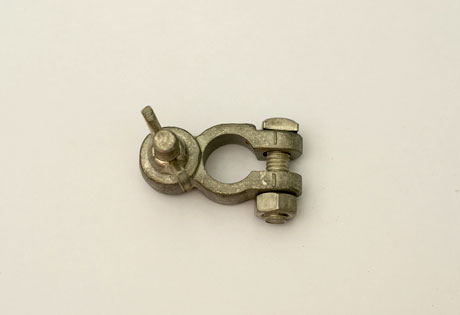 | | |
| --- | --- |
| Formal Name | Strip Wing Nut Heavy |
| Application | After Market For Extra Heavy Batteries And Earth moving Equipments. |
| Function | Flexibility To Connect With Lug And Clips For Battery Replacement |
| Material | Copper Zinc Alloy (Brass) |
| Operating Temperature | -20° C To +300° C |
| Weight Range | 850 Gm To 900 Gm |
| Global Consumption | South Africa, Saudi Arabia, Europe, Australia & America. |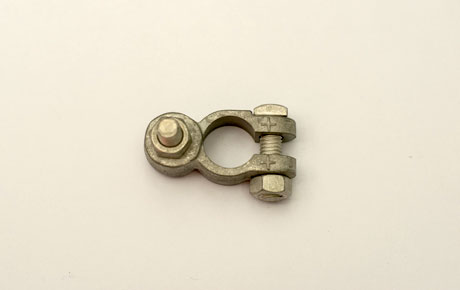 | | |
| --- | --- |
| Formal Name | Ford Terminal |
| Application | Oe Terminal For Heavy Batteries |
| Function | Easty To Grip With Nut Or Wing Nut |
| Material | Copper Zinc Alloy (Brass) |
| Operating Temperature | -20° C To +300° C |
| Weight Range | 900 Gm |
| Global Consumption | Japan, Indian Oe. |
Size: As per standard of connector type or customer specifications.
Threads: ISO Metric (MM Threads), BA, BSW, UNC, UNF or as per customers requirements.
Material:
– Free Cutting Brass IS 319 Type (I)
– Free Cutting Brass As Per BS 249 Type (I)
– High Grade Free Cutting Brass
– Any Special Brass Material Composition As Per Customers Requirement.
Finish/Platting: Natural, Tin platted, Nickle platted or as per customer specifications
[contact-form-7 id="1703″ title="Contact"]